---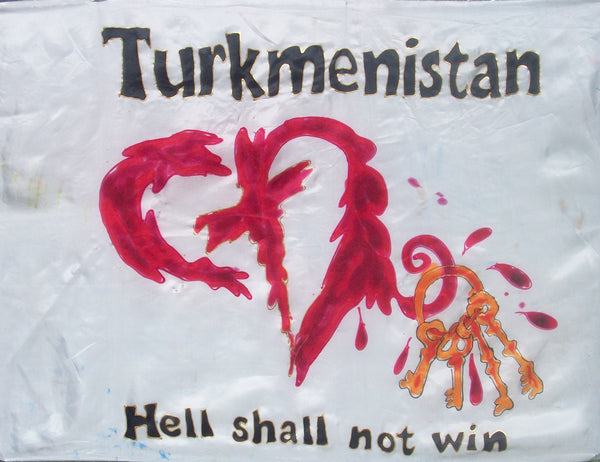 INTERPRETATION OF TURKMENISTAN

A country in central Asia bordered by Afghanistan & Iran. They gained independence from Russia in 1991. They possess the worlds fourth largest natural gas resources in the desert. Most of the land is covered by the Karakum Desert (its name means black sand) with some parts getting less than 1/2 inch annually. Its dust & pollution has been found in Antarctic & Greenland ice. Within the desert is the Darvaza gas crater, also known as the " door or gates of hell" as it is an open gas fissure that has burned for at least the last 40 years and is one of their biggest tourist attractions.

It borders the Caspian Sea- the worlds largest enclosed body of water that is really a salty lake with about a third of the salinity of most seawater. It is undrinkable. It has over 130 rivers drain into it, but the Volga river from Europe gives nearly 80% it inflow bringing in bio-pollutants plus oil drilling in the area has polluted it.

Since 1993, citizens have received government provided electricity, water and natural gas for free to its more than 5 million population, yet it is one of the most repressive countries of the world. It is virtually closed to independent scrutiny, media and religious freedoms. It has severe restrictions on foreign travel and discrimination against ethnic minorities

Religion- Islam 93%, Christianity 6%( Russian Orthodox)


INTERPRETATION OF IMAGERY
Yeah, though you taint the whole earth with your sands of strife, the gates of hell shall not prevail against My Rock of Truth, Jesus, who holds the keys to the kingdom to bind and loose.
Hell shall not win

Mat 16:15 -19 He saith unto them, But whom say ye that I am? And Simon Peter answered and said, Thou art the Christ, the Son of the living God. And Jesus answered and said unto him, Blessed art thou, Simon Barjona: for flesh and blood hath not revealed it unto thee, but my Father which is in heaven. Mat 16:18 And I say also unto thee, That thou art Peter, and upon this rock I will build my church; and the gates of hell shall not prevail against it. And I will give unto thee the keys of the kingdom of heaven: and whatsoever thou shalt bind on earth shall be bound in heaven: and whatsoever thou shalt loose on earth shall be loosed in heaven.