---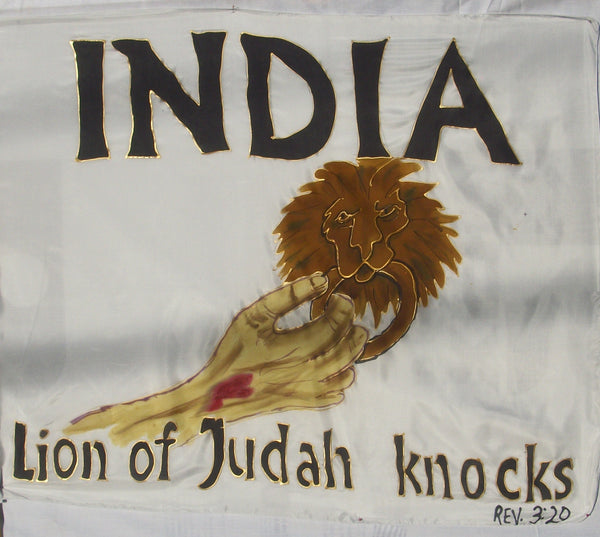 INTERPRETATION OF INDIA

India is the 7th largest nation by area, the 2nd most populous democracy in the world with over 1.2 billion, the 7th largest economic power. 3rd largest standing army, nuclear capabilities.

The name India comes from a Persian word meaning "Hindu" (80%)which is the dominant religion but Islam(15%) Christianity(3%) Buddhism,Sikhism, Jainism.

Flag is tricolor of saffron(hinduism), white (other) & green (islam)horizontal bands or courage & sacrifice, peace & truth, Faith & chivalry. with a 24 spoke blue Ashoka chakra at its center. The chakra stands for (wheel of industry) but the Ashoka chakra is the eternal wheel of the law of dharma (religion Hindu) and motion/life/
State emblem: 4 lions standing back to back- power, courage, confidence, pride
Motto: Truth is Triumph
most famous person: Gandhi

INTERPRETATION OF IMAGERY

Letter to the Laodiceans Rev 3:14-18 And unto the angel of the church of the Laodiceans write; These things saith the Amen, the faithful and true witness, the beginning of the creation of God; I know thy works, that thou art neither cold nor hot: I would thou wert cold or hot.
So then because thou art lukewarm, and neither cold nor hot, I will spue thee out of my mouth.

Rev 3:17 Because thou sayest, I am rich, and increased with goods, and have need of nothing; and knowest not that thou art wretched, and miserable, and poor, and blind, and naked:
Rev 3:18 I counsel thee to buy of me gold tried in the fire, that thou mayest be rich; and white raiment, that thou mayest be clothed, and that the shame of thy nakedness do not appear; and anoint thine eyes with eyesalve, that thou mayest see.

Rev 3:19 As many as I love, I rebuke and chasten: be zealous therefore, and repent.
Rev 3:20 Behold, I stand at the door, and knock: if any man hear my voice, and open the door, I will come in to him, and will sup with him, and he with me.
Rev 3:21 To him that overcometh will I grant to sit with me in my throne, even as I also overcame, and am set down with my Father in his throne.
Rev 3:22 He that hath an ear, let him hear what the Spirit saith unto the churches.

Lion of Judah knocker with hand of Jesus

The background is white to symbolize purity of worship to Jesus and to come into the synergy of their flag where white stands for peace and truth.