---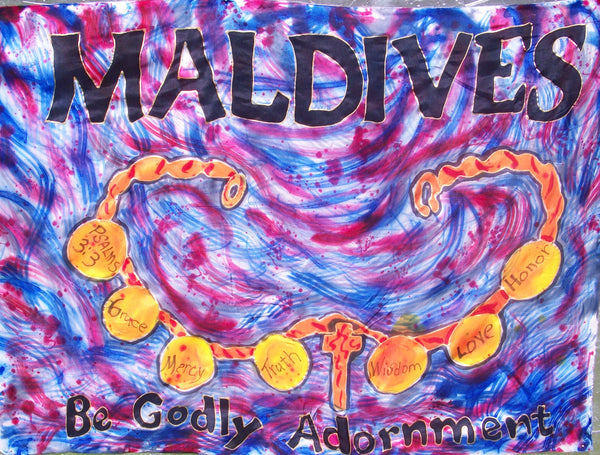 INTERPRETATION OF MALDIVES

An island nation of South Asia located in the Indian Ocean situated in the Arabian Sea, It is southwest of India. Comprising 26 atolls, it is one of the worlds most geographically dispersed countries and the littlest Asian country by land area and population. Its name means garland, or "necklace islands". Its capital is located on "Kings Island" because they used to be a monarchy and the kings lived here because of its central location. It is the worlds lowest country with an average of only 4 feet above sea level and its highest point 7.10 ft above.

It is a big tourist attraction for scuba diving, and most of the hotel are bungalows built on the water, looking like strands of jewels as they are interconnected with boardwalks.

It was Islamised in the 12th century with a sultanate king, then colonized by Great Britain and gained its independence in 1968. The ensuing decades have been characterized by political instability, efforts at democratic reform and environmental challenges. They have a poor human rights rating, significant corruption, lack of religious freedom,abuse and unequal treatment of women. Women who are raped are often punished for enticing the rapist.

It is Islamic today with the crescent symbol on its flag and practicing some of the most severest forms of sharia law. Islam is the state religion and open practicing of any other religion is forbidden & punishable. It is thought that they produce some of the highest per capita of jihads fighters to extremist outfits in Syria & Iraq.


INTERPRETATION OF IMAGERY

Pro 3:3-7 Let not mercy and truth forsake thee: bind them about thy neck; write them upon the table of thine heart: So shalt thou find favour and good understanding in the sight of God and man. Trust in the LORD with all thine heart; and lean not unto thine own understanding. In all thy ways acknowledge him, and he shall direct thy paths. Be not wise in thine own eyes: fear the LORD, and depart from evil.

They are known as a necklace of the Asia, so this image is of a necklace with words from Psalms 3:3 on each gold charm and an exhortation for them to be a Godly ornament rather than for Allah.