---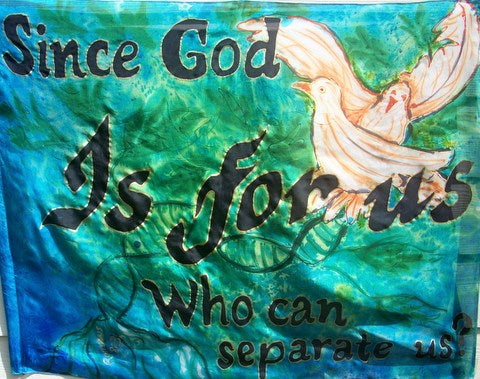 Romans 8:31 Prophetic Worship Flag
 This flag was created upon request by a mother to be used at her daughters wedding. They are of Romanian descent and traditionally a flag is used. She said Romans 8:31 was their verse because there had been much opposition to the marriage.
INTERPRETATION OF IMAGERY

The Word is prominent as the Decree of the Lord over this marriage that man nor the trials of life will not separate them.

In the background is two doves. Doves are symbolic of fidelity and lifetime commitment, and also symbolic of Holy Spirit presence. The male dove has his wings spread over the female as he protects her. They have gold highlights to symbolize the presence of the Glory of God.

They are resting upon a tree that is formed from a DNA chain to portray their blending, being solidly rooted in the Word of God. A tree is a symbol of strength and endurance and also is symbolic of mankind and thus generations. Green is the color for HEALING, PROSPERITY, LIFE, ABUNDANCE and is theycolor that surrounds the throne of God in Heaven.

The sky is blue for refreshing presence of the Holy Spirit, and clear skies for this marriage.