---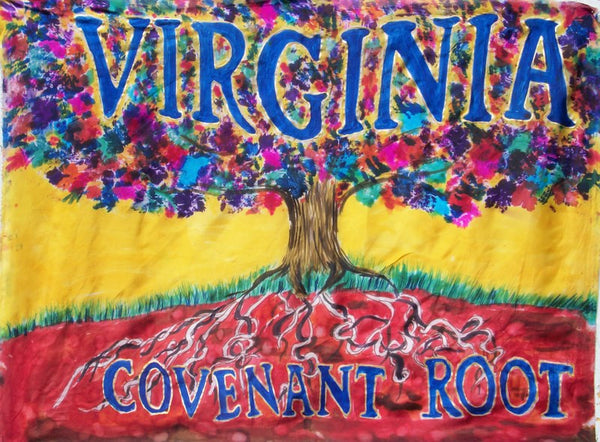 INTERPRETATION OF VIRGINIA PROPHETIC FLAG
 

The Decrees & Vision's: "COVENANT ROOT STATE'

A sovereign move of God was present to bring racial reconciliation between Blacks and Whites. Root issues that have prevented Gods covenant plan for our nation were dealt with.

IMAGERY VISION ON FLAG:

Image is of a spreading oak tree, symbolic of stability . In several places in the bible, Men are described as trees, so this tree represents mankind.

The leaves are a rainbow of colors to represent all races, and Gods sign of covenant.

The sky is yellow, for a new day but also to come into the synergy of the State Flag that has yellow.

The roots of the tree go into red earth, Virginia has much red dirt, but also I chose red to represent the Blood of Jesus. The roots are intertwined black and white to represent unity of the races.
The vision for this flag was gleaned from excerpts from the book, "Releasing the Prophetic Destiny of a Nation" written by Dutch Sheets and Chuck Pierce. This book was written from the call of God on their lives in to go to each state in America to link with ministries in that state and decree the destiny of God for that place and stir up a prophetic army of intercessors for America.