---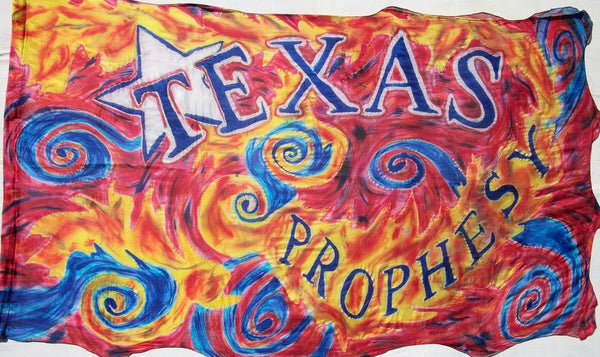 INTERPRETATION OF TEXAS PROPHETIC FLAG

The Decrees & Vision's: "PROPHETIC STATE'

Jesus, come to TEXAS with Your Holy fire, zeal and revelation.

Texas shall be the Prophetic Decree forerunner for the nation in a governmental anointing.
What is prophesied from Texas shall affect the nation and world.
As Texas leads, the nation will follow.
Texas has America in its womb, the seed of God in prophesy shall effect change in the nation.

IMAGERY VISION ON FLAG:

Texas is known as the Lone Star State, so the star is incorporated to align with the founders of Texas. Texas flag colors are red, white and blue just like America, and so those are dominate in this design to symbolize the connection.

But in this design, the white stands for purity of decree, Red for the blood and passion of Jesus, Blue for the Holy Spirit prophetic Breath.

Fire is the color for the Glory of God, for revival, for zeal.

The fire of Prophesy is swirling and birthing new fires.

The many swirls are symbolic of motion and life and womb alike.
The vision for this flag was gleaned from excerpts from the book, "Releasing the Prophetic Destiny of a Nation" written by Dutch Sheets and Chuck Pierce. This book was written from the call of God on their lives in to go to each state in America to link with ministries in that state and decree the destiny of God for that place and stir up a prophetic army of intercessors for America.