---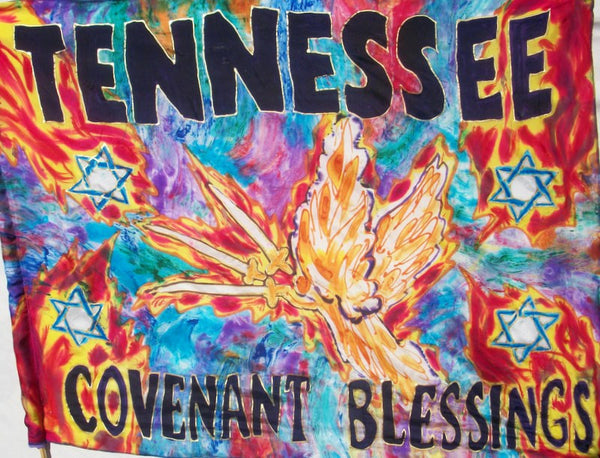 INTERPRETATION OF TENNESSEE PROPHETIC FLAG


The Decrees & Vision's: " RECEIVING GOD'S COVENANT BLESSING STATE"

God has given Tennessee governmental authority in this nation to decree and bind, to loose, to close doors and to open doors.

A new warring Spirit is breaking forth and you will step into this new mantle. Psalms 110.

Tennessee, because of your allegiance and alignment with Israel I have moved you from the curse to the covenant blessing.

There is new fruit of a covenantal release. A convergence of the promises of God for many generations.

This state shall be on fire from the corners, from the borders to the center. It shall be a fire of answered prayers that brings unity.

IMAGERY VISION ON FLAG:

Central to the flag is an angel to represent the warring spirit and he has three swords to represent the fullness of God and multiple host of angels. He is a Glory Fire angel, symbolic of Gods consuming presence and power.

Coming from the four corners are meteors shooting down from heaven as answered prayers and they are in the form of the Star of Israel since Israel is pivotal to the blessing for this state and they are on fire with the Glory and power of God that brings unity.

The background is multicolored as the rainbow symbolic of Gods Covenant but is blended to represent all races, denominations and nations coming together.
The vision for this flag was gleaned from excerpts from the book, "Releasing the Prophetic Destiny of a Nation" written by Dutch Sheets and Chuck Pierce. This book was written from the call of God on their lives in to go to each state in America to link with ministries in that state and decree the destiny of God for that place and stir up a prophetic army of intercessors for America.