---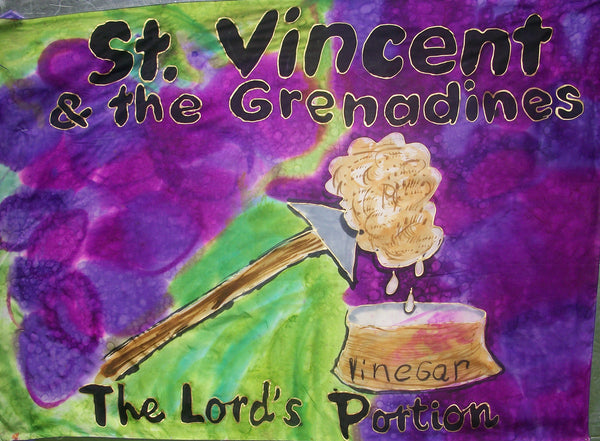 INTERPRETATION OF SAINT VINCENT GRENADINES

An island nation of the Caribbean, it has the main island of St Vincent and the Grenadines are a chain of little islands. Most of the islands lie in the Hurricane belt. They gained independence from Great Britain in 1979 but still have a parliamentary government and the Queen as their Monarch. Nearly 70% of the inhabitants have African decent , descendents of slave labor brought to work sugar plantations. It got its name from Columbus who discovered it on St Vincents feast day- A saint of vinegar & wine.

Grenadine is a sweet syrup.


Religion- 82% Christian (Angelicanism 18%, Pentacostal 18%, Methodist 11%, Roman Catholic 7%)


INTERPRETATION OF IMAGERY

Jesus was offered a sponge of vinegar to ease His pain,to mock Him. The Nazarite separated unto God wasn't supposed to drink/eat anything of the grape

Joh_19:30 When Jesus therefore had received the vinegar, he said, It is finished: and he bowed his head, and gave up the ghost.
Num 6:3 When either man or woman shall separate themselves to vow a vow of a Nazarite, to separate themselves unto the LORD: He shall separate himself from wine and strong drink, and shall drink no vinegar of wine, or vinegar of strong drink, neither shall he drink any liquor of grapes, nor eat moist grapes, or dried.

Separated unto God. Jehovah's Portion.