---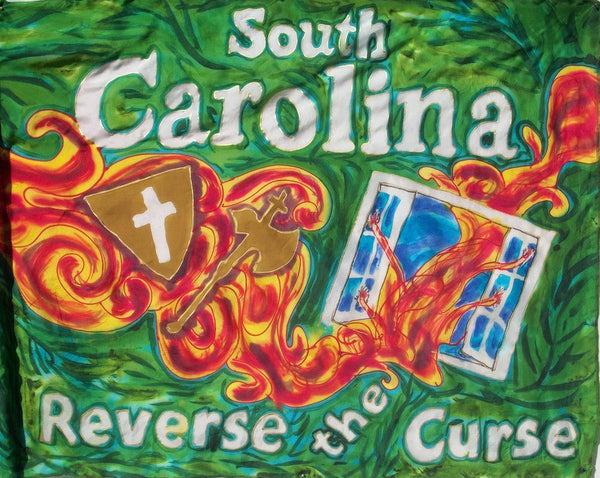 INTERPRETATION OF SOUTH CAROLINA PROPHETIC FLAG
 

The Decrees & Vision's: "REVERSED THE CURSE STATE"

God says HE is creating a window of opportunity for South Carolina. This time I want to breakthrough all the way in revival, of breaking strongholds. I will show you by my Spirit how to go through it!

It is time for South Carolina to move forward in new vision. Get a mindset of corporate anointing. Move in unity. God is going to fracture something that is centuries old.

A shield of faith is forming that will shift this state into transformation . A new wind is coming, a strong wind that will bring change.

Fire the shot of the Spirit now and let Holy Fire root out a sectarian spirit. You are a battle axe in the hand of the Lord to breakthrough!

IMAGERY VISION ON FLAG:

South Carolinas flag has a white silhouette palm tree on it to represent the heroic defense against the British in 1776. The background of this prophetic flag has green palm leaves to come into the synergy of the founding fathers, but also to represent revival, prosperity, newness.

There is a wind of holy Spirit Glory fire blowing across the flag--symbolic of across the state and it is going through an open window, but also breaking it open and breaking those invisible panes or ceilings.

Incorporated in the Glory fire of revival is a battle ax and shield of the Lord.
The vision for this flag was gleaned from excerpts from the book, "Releasing the Prophetic Destiny of a Nation" written by Dutch Sheets and Chuck Pierce. This book was written from the call of God on their lives in to go to each state in America to link with ministries in that state and decree the destiny of God for that place and stir up a prophetic army of intercessors for America.