---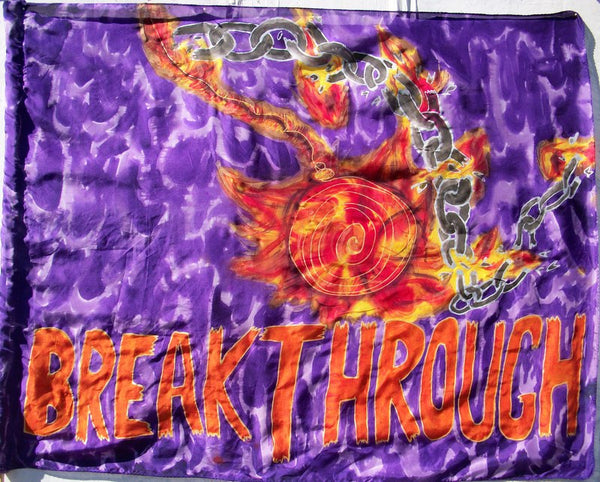 INTERPRETATION of BREAKTHROUGH PROPHETIC FLAG

This flag was birthed from a prophetic Word I received that the Prophet could see a wrecking ball of the Glory coming in to bring breakthrough. 
So I created a flag to agree with the Word, there is a wrecking ball of Glory swinging in and hitting chains of bondage, delay and discouragement-- utterly smashing them! The background is of shattered purple--purple to signify heirs to the throne of God being set free.
After I made the flag I took it around my neighborhood to pray and decree Jesus over the vacant houses.  Upon approaching the front porch of the nearest one, I realized that it wasn't empty as I saw someone through a window. I hesitated about what to do when a young woman came to the door. So I told her what I was doing, that I came to bless the property. She agreed and we prayed over her household and I left. As I neared the gate I heard her calling to me as she ran to meet me and asked me to pray for her to be delivered from drug use. Oh baby did i ever pray. Years later they are still in the house and she is free.