---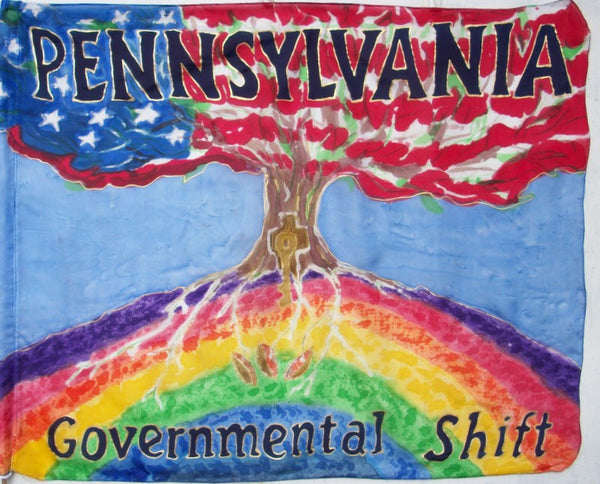 INTERPRETATION OF PENNSYLVANIA PROPHETIC FLAG

The Decrees & Vision's: "THE FIRST SHALL BE LAST- GOVERNMENTAL SHIFT STATE"

Pennsylvania is a "keystone" state, on that holds all the nation together.

Pennsylvania will govern with Gods government, for God is government, He rules. Pray "as it is in heaven, so shall it be on earth". Gods 'covenant roots"

William Penn decreed that Pennsylvania was "a seed of a nation" that shall flourish and be an example for others to follow.

IMAGERY VISION ON FLAG:

The central image is of a sprawling mature oak tree whose leaves are the color of the American flag to portray the influence of Pennsylvania on America.

This trees roots go deep and sprout from 3 seeds-- The Father, Son and Holy Ghost. They are embedded in a rainbow, the symbol of Gods covenant.

Within the trunk of the tree is a "keystone" shaped like a cross and its roots are in the Covenant colors.

The background is of peaceful calm blue-- let Holy Spirit rule in peace over this nation.
The vision for this flag was gleaned from excerpts from the book, "Releasing the Prophetic Destiny of a Nation" written by Dutch Sheets and Chuck Pierce. This book was written from the call of God on their lives in to go to each state in America to link with ministries in that state and decree the destiny of God for that place and stir up a prophetic army of intercessors for America.