---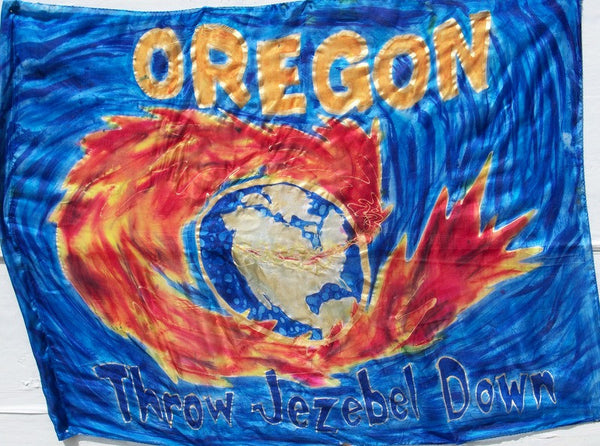 Interpretation on Prophetic Destiny for OREGON

The Decrees & Vision's:

OREGON State shall be known as "To Throw Jezebel From the Wall".

Oregon shall facilitate revival around the world as the Prophets gather to created a synergy that will take out Jezebel in Oregon and spread across the USA and the World.

IMAGERY VISION ON FLAG

Oregon's flag has distinct lettering which is incorporated here to align with the founding, governmental fathers vision of it being a unique state. Its colors are primary gold & blue so that is the colors chosen for the font and background.

The blue background also symbolizes Holy Spirit as the breath and river of God.

The world is portrayed with the USA larger and Oregon pinpointed. Coming from Oregon are entwined threads of fire to symbolize gathering of the Prophetic and it burst into flames as the Glory of God and revival and encircles the globe.
The vision for this flag was gleaned from excerpts from the book, "Releasing the Prophetic Destiny of a Nation" written by Dutch Sheets and Chuck Pierce. This book was written from the call of God on their lives in to go to each state in America to link with ministries in that state and decree the destiny of God for that place and stir up a prophetic army of intercessors for America.