---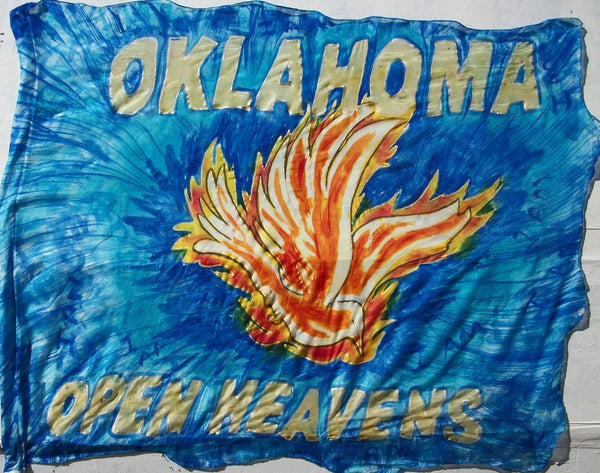 Interpretation on Prophetic Destiny for OKLAHOMA

The Decrees & Visions:

Oklahoma State shall be known as "OPEN HEAVEN".

As Chuck flew over Oklahoma he visioned a dove descending over the state outlined with fire and filled with liquid glory.

He heard the Lord say "I AM" in regards to multiple things about Oklahoma. A New level of Prosperity is coming.

IMAGERY VISION ON FLAG

Gods vision of a firey dove. The dove is symbolic of Holy Spirit, Fire is symbolic of Holy Spirit, Blue is symbolic of Holy Spirit.

The dove is descending in fire that symbolizes revival and the Glory of God, filled with the molten glory that is symbolic of the Prophetic Word and another level of the Glory and prosperity.

In the clouds that have been rolled back by the Glory are multiple "I AM" in various colors of blue to signify Holy Spirit revelation.
The vision for this flag was gleaned from excerpts from the book, "Releasing the Prophetic Destiny of a Nation" written by Dutch Sheets and Chuck Pierce. This book was written from the call of God on their lives in to go to each state in America to link with ministries in that state and decree the destiny of God for that place and stir up a prophetic army of intercessors for America.