---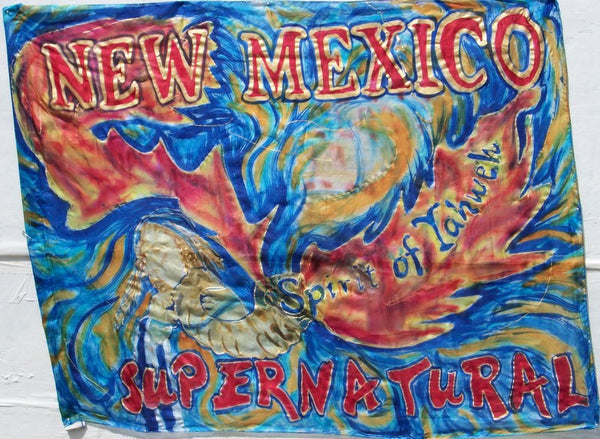 INTERPRETATION OF NEW MEXICO PROPHETIC FLAG
The Decrees & Visons: " SUPERNATURAL STATE"

New Mexico is known as the "land of enchantment" has a very supernatural atmosphere which has actually created a ceiling against the move of God. But the Spirit of God is raising up a Jesus blood bought Holy Ghost filled prophetic people with wisdom to overcome these spirits break that ceiling.

Isaiah 35 is for New Mexico

Prophets will be able to sound a clear trumpet blast that will blow away the false supernatural. Watch the winds.

Those bound by witchcraft, voodoo and false doctrine will be saved by the wind of this blast. I am getting ready to bring them in and raise up prophets of the Lord God.

I am releasing mysteries, strategies and revelation with this prophetic mantle. Invite faith in!

IMAGERY VISION ON FLAG:

Central image is of a rams shofar as that is symbolic of the voice of God and coming from it are three steams of glory fire, symbolic of Father, Son and Holy Ghost but also for mysteries, strategies and revelation to be released.

To verify this is the Glory Fire of God, written within the stream is " Spirit of Yahweh", the Hebrew name for God.

The background is of swirling shades of blue to represent the winds of Holy Spirit and golden Glory swirls mixed in to portray the Pure Glory Presence of revelation being revealed.

The vision for this flag was gleaned from excerpts from the book, "Releasing the Prophetic Destiny of a Nation" written by Dutch Sheets and Chuck Pierce. This book was written from the call of God on their lives in to go to each state in America to link with ministries in that state and decree the destiny of God for that place and stir up a prophetic army of intercessors for America.