---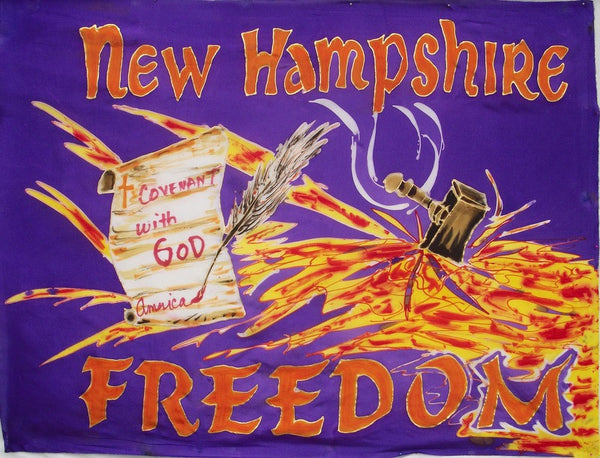 INTERPRETATION OF NEW HAMPSHIRE PROPHETIC FLAG 

The Decrees & Visons: "FREEDOM STATE"

New Hampshire was the first state to sign the Declaration of Independence, and will be the first state to restore a full covenant with God that will bring America back to liberty and true freedom again.

The worship will become a prototype to turn the nation back to God.We have a peculiar anointing for breakthrough and great influence. We are "giant killers". We are a hammer state. Our worship and prayers are like a hammer that brings blow after blow to bring breakthrough for us and the nation. What is scattered will be gathered.

We have governmental authority to overthrow iniquity and bring freedom through the covenant of God.

IMAGERY VISION ON FLAG:

Image is of a giant mallet being hammered down and breaking things open in the Spirit and releasing the glory anointing symbolized by the molten fire. This mallet in the natural is used to hammer chisels into rock to break them up and also is an icon for judicial, governmental authority.

This authority is symbolized by the scroll of a Covenant with God and also as a decree of being first to sign the American Declaration for Freedom and upon this scroll New Hampshire is calling America back to those covenant roots. Jesus decreed "It is written in the Word of God" to overcome satan, and so here we declare great authority because it is written covenant with God.

The background is of royal purple to symbolize we are heirs to the throne of Jesus, Kings able to establish rule in our region. The molten glory fire is shattering out into the realm of the king and according to prophesy, will be regathered.


The vision for this flag was gleaned from excerpts from the book, "Releasing the Prophetic Destiny of a Nation" written by Dutch Sheets and Chuck Pierce. This book was written from the call of God on their lives in to go to each state in America to link with ministries in that state and decree the destiny of God for that place and stir up a prophetic army of intercessors for America.