---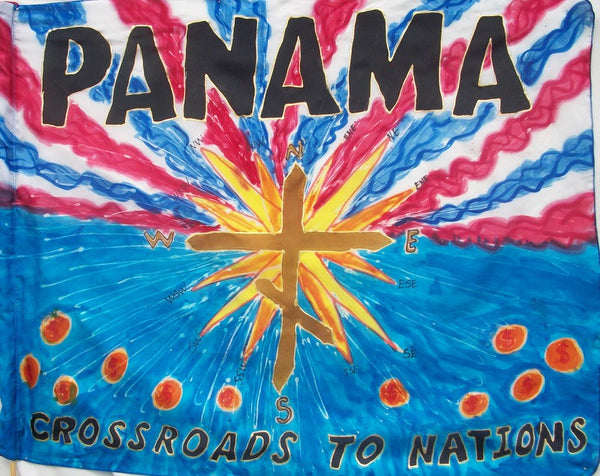 INTERPRETATION OF PANAMA PROPHETIC FLAG

Panama is a nation that is a connecting nation, or a Crossroads to the North & South by land and to the East & West by sea. Granted, the canal is manmade, yet it was God that created the narrow isthmus of land and put all the right ingredients for determined visionaries to create this canal passage.

Because of the canal, medical science was escalated as remedies for mosquito control and malaria treatments were sought worldwide and so it is a land that helped to bring "light" to this hidden disease.

Columbia, France and the USA controlled the territory surrounding the canal during construction and the USA had continued to control it for 85 years. Panama has been the source of unknown prosperity & commerce to the world because of the canal and is one of the richest Central American nations.

Panama professes nearly 95% of the population to be Catholic or Evangelical and so is a nation known for Jesus, the Light and Cross bearer.

It is located on the "ring of fire" but has no active volcanoes itself.

INTERPRETATION OF IMAGERY ON FLAG



Central image on the flag is of multiple directional crosses pointing to all the compass directions. Exploding out from these is light to represent revelation and Jesus.

The background is of shades reminiscent of the USA flag and blue waves for water but also Holy Spirit and within the blue are gold coins to represent prosperity & knowledge.