---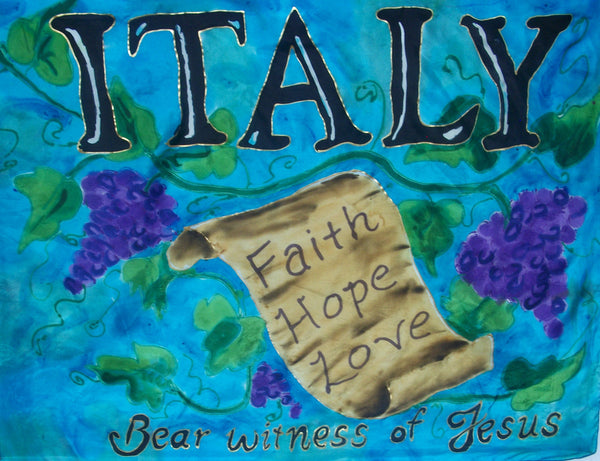 INTERPRETATION OF ITALY

Italy is known as a romantic nation to travel to with its beautiful country, vineyards and Rome as a city of love. Italy is the seat of "Roman Catholicism" and has even established a "micro" country, the "Holy See" within it for the Catholic church. During the dark ages the Catholic church preserved the written Word of God that our modern bible is written from. It is only in modern excavation of scrolls in Israel that much of this Word has been confirmed. Rome has a long history of world dominance and in Jesus' time had Israel under its rule. Jesus hung on a Roman cross. Paul wrote part of the Bible while in prison in Rome. Christopher Columbus was an Italian explorer who discovered America through the support of Spain. Most of Shakespeares plays are set in Italy.

It is a nation that has played a significant role for the world, America, Christianity and Catholicism.

The national flag is made of three equal vertical bars of Green, White, Red that poetic legend says is for Faith, Hope and Love.

In late 2016, Italy was rocked by a series of earthquakes in the mountainous towns, especially Amatrice, near Rome, that it is predicted they will never recover from the damage to structures and loss of heritage.


INTERPRETATION OF IMAGERY

The flag has a background of grape vines to symbolize "fruitfulness" as Jesus is the vine and we are the branches and to come into agreement with the decree on the bottom. Coming forth from the vine is an ancient scroll, to symbolize the antiquity of the nation. Upon the scroll are the words from the Italian legend of what their country image is: Faith, Hope ,Love-- these attributes can also be found in 1 Cor 13 as the greatest gifts a Christian can have and are part of the fruit of the Spirit. The background is of calming turquoise blue to reflect the sea around Italy.

The decree at the bottom is from Acts 23:11 where Paul is testifying of his journey to Rome because Jesus had prophesied to him in a vision that Paul must go there and "Bear Witness of ME".