---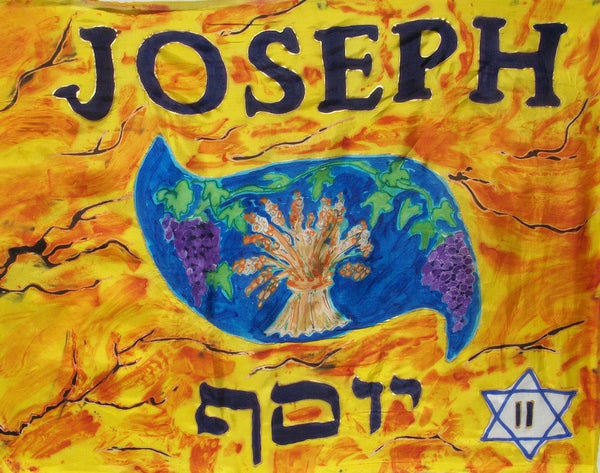 INTERPRETATION OF  JOSEPH PROPHETIC FLAG

This flag was created from recognized lore about the Tribe of Joseph.
Jacob who became Israel had twelve sons and Joseph was son number 11 and that number is in the Jewish star in the right bottom corner. Josephs name is written in English at the top and in Hebrew on the bottom.
The center of the flag contains the heraldic image of a wheat stack and fruitful vine for Joseph that is taken from the prophesy of Jacob in Genesis 49:22-26 " Joseph is a fruitful bough, even a fruitful bough by a well; whose branches run over the wall: The archers have sorely grieved him, and shot at him, and hated him: But his bow abode in strength, and the arms of his hands were made strong by the hands of the mighty God of Jacob; (from thence is the shepherd, the stone of Israel:) Even by the God of thy father, who shall help thee; and by the Almighty, who shall bless thee with blessings of heaven above, blessings of the deep that lieth under, blessings of the breasts, and of the womb: The blessings of thy father have prevailed above the blessings of my progenitors unto the utmost bound of the everlasting hills: they shall be on the head of Joseph, and on the crown of the head of him that was separate from his brethren."
When the tribes entered the promised land, Joseph's two sons each inherited a portion and rather than the tribe of Joseph and Levi, so we now have the tribes of Manasseh and Ephraim. In Revelation it reverts to Joseph and Manasseh.
The image is encapsulated in the Hebrew letter "YUD or YOD". In Jewish mystical tradition, Yud represents a divine point of energy. Since Yud is used to form all the other letters and since God uses the letters as the building blocks of creation, Yud indicates Gods omnipresence. Yud is considered the starting point of the presence of God in all things and the "spark" of the Spirit in everything.
The background of the flag is in the color of the Yellow black Onyx stone that is associated with Joseph and thought to represent this tribe on the ephod.