---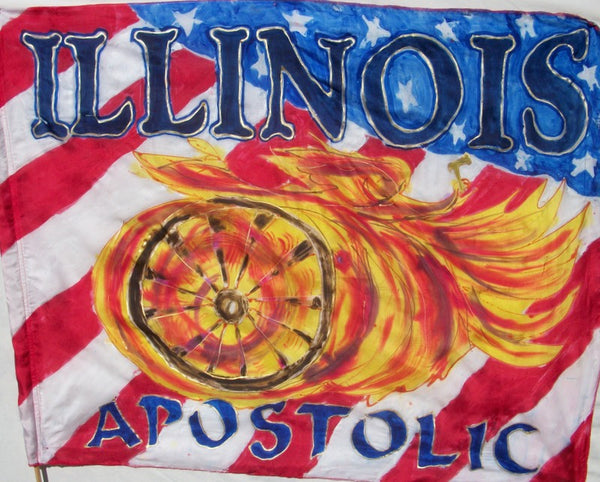 INTERPRETATION OF ILLINOIS PROPHETIC FLAG

The Decrees & Visons: "APOSTOLIC STATE"

From this state the Glory of the Lord shall proceed forth as a wheel that shall turn this nation.

There will be a divine connecting of Illinois to the nation. A new level of networking and joining of the states to one another because Illinois is Apostolic.

Illinois will be a womb, a matrix or hub of birthing the apostolic for America, a "Horeb". You will be a prototype for what God wants to do in the government of this nation.

IMAGERY VISION ON FLAG:

Image is of a firey angelic wheel.

Wheels are symbolic of covenant, of order and of the womb. Elijah was taken into the glory realm of heaven by chariots of fire that had wheels of fire. Wheels carry the vehicle, they are in motion.

This wheel of Glory is being carried by an angel that has a double headed hammer : used to break religion and nail down freedom to connect the nation.

The background is of a flowing, moving United States Flag.
The vision for this flag was gleaned from excerpts from the book, "Releasing the Prophetic Destiny of a Nation" written by Dutch Sheets and Chuck Pierce. This book was written from the call of God on their lives in to go to each state in America to link with ministries in that state and decree the destiny of God for that place and stir up a prophetic army of intercessors for America.