---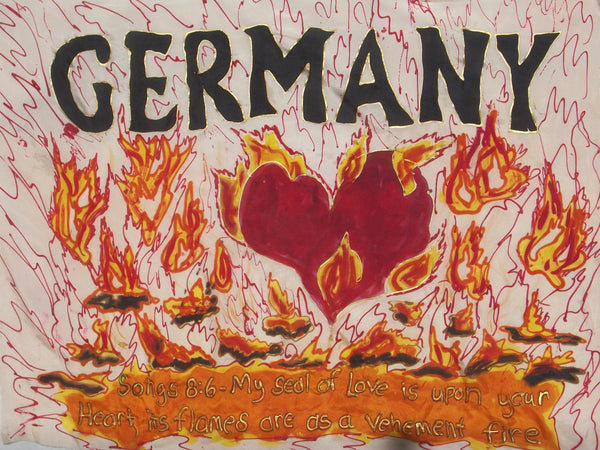 INTERPRETATION OF GERMANY

Germany is thought to have been settled by descendents of Noahs great-grandson Ashkenaz, through the line of Japheth. Ashkenaz means " a man sprinkled with: like fire that is scattered, burning, smoldering coals.

Ashkenazi Jews settled in what is known as modern Germany . Many people seeking their DNA roots have been surprised to learn they carry the Ashkenazi gene.

Germany has a checkered history and as I sought the Prophetic call for this nation I really tried to hear what God intended for Germany to be, and I think it was and is to be a place of revelation for the world. The first bible for common distribution was printed in Nuremberg, Germany. Berlin used to be "the capitol of the world" and royalty from all over the world would gather there for their celebrations. Martin Luther was a catholic priest who gained revelation on Faith and the Grace of God and rebelled against the stagnant law of Catholicism and so the present day Protestant church was born. But in all of this, Hitler arose to cleanse the world of Jews and made the country of Germany infamous for this curse.

INTERPRETATION OF IMAGERY ON FLAG

The prophetic call to Germany is for it to cry out to Jesus and have a burning heart for Him and to realize how very passionate He is for them. The scripture is Song of Solomon 8:6- " Set me like a seal over your heart, like a seal on your arm. For love is as strong as death, passion as intense as Sheol. The flames of love are flames of fire, a blaze that comes from the LORD." (set My seal of love upon your heart, its flames are as a vehement fire)
The central image is of a scattered firey heart flaming up from a bed of coals that are smoldering coals waiting on the breath of God to blow upon them. Rising up are multiple flames wrapped around a hint of hearts.

The background is predominately whitish because a vehement fire is "White hot" and marbled through it are red flame outlines.