---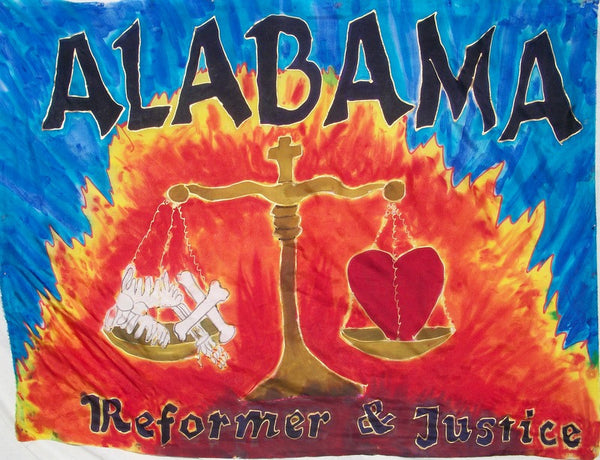 INTERPRETATION OF ALABAMA PROPHETIC FLAG
The Decrees & Visons: "THE REFORMER AND JUSTICE STATE"

1. The prayer over Alabama is that will be a state known for its righteous justice that will spread across America in beauty like a sunrise of holiness.
2. That it would be known as a reformer state-- that it would "re-form", and that the dry bones of the past will not hinder the well of revival being dug now but just as Ezekiel saw they will be reformed into and army of righteousness and an instrument of revival and justice in these days.
Imagery & Vision on Flag:

The central image is of the scales of Justice being balanced by dry bones of the past against the heart of intercession today. The background is of a Fire Sunrise that symbolizes the beauty of revival, a new day, and fire is symbolic of the Glory of Gods Presence. Behind the sun is a blue radiating sky, which is symbolic of new kingly authority, and blue represents Holy Spirit in Power.
The vision for this flag was gleaned from excerpts from the book, "Releasing the Prophetic Destiny of a Nation" written by Dutch Sheets and Chuck Pierce. This book was written from the call of God on their lives in to go to each state in America to link with ministries in that state and decree the destiny of God for that place and stir up a prophetic army of intercessors for America.