---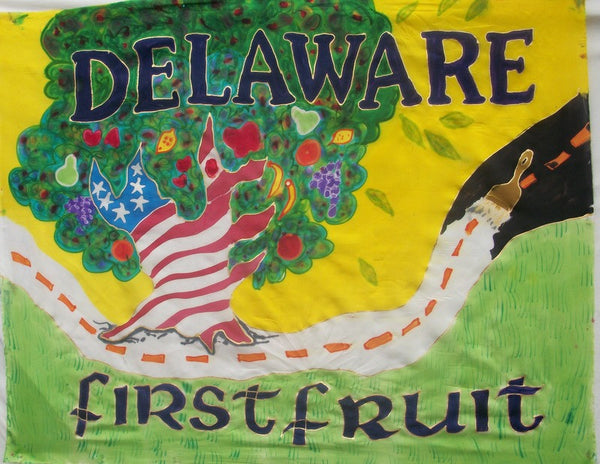 INTERPRETATION OF DELAWARE PROPHETIC FLAG

The Decrees & Visions: " RELEASING THE FIRSTFRUIT OF A NATION"

Delaware was the first state to ratify the US constitution and so became the first state of the Union and so is accorded the first position in many national events, such as the Presidential inaugurations.

Delaware will reconnect with its roots for you are a FirstFruit state. You are known as the "Cradle of Methodism", from a revival of holiness that touched the nation.

"If the Firstfruit is holy, then the whole lump will be holy", "I am reconnecting you to your holy roots and you shall cause a highway of holiness to rise up and break the spiritual impasse in this land" " A highway of Holiness!"

IMAGERY VISION ON FLAG:

Central to the flag is a huge tree that is colored in the US flag symbolizing America and its roots. It is a fruitful tree of various fruits like the tree of life is described in Revelations. Delaware holds "FirstFruits" for this nation.

Leaves from the tree are falling across the land, in Revelation 22 we are told the leaves of the trees are for the healing of the nations.

The sky is yellow for Glory, and a brush of the Spirit is forming a highway of Holiness, laying down a new way on old foundations that the roots of the tree are embedded in.
The vision for this flag was gleaned from excerpts from the book, "Releasing the Prophetic Destiny of a Nation" written by Dutch Sheets and Chuck Pierce. This book was written from the call of God on their lives in to go to each state in America to link with ministries in that state and decree the destiny of God for that place and stir up a prophetic army of intercessors for America.