---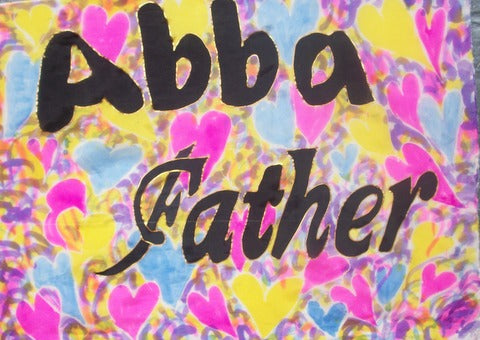 Interpretation Abba Father Prophetic Worship Flag

Jesus called out to Abba Father while in the garden of Gethsemane before his crucifixion as He surrendered to the Fathers will. I believe this flag will usher in a faith-filled surrender to the will of the Father and deliver from a destructive independent spirit.

Paul writes in Romans & Galatians how once we accept Jesus, we are adopted into the family of God and we can know Father God as intimately as Jesus did and cry out to Him because we are free from religion and entered into relationship. This flag will help deliver those bound by the orphan spirt, and bring wholeness to the broken hearted.

This flag was was a special order received the eve of the massacre at the LGBT club in Orlando in June 2016. The minister who ordered it has a ministry to the gay community. I believe the heart of God is beating with excitement at the prospect of all His children who have been deceived and lost their identity that coming into a saving, delivering relationship with Him and that this flag carries a special anointing to call the LGBT to truth of the Fathers Love, His forgiveness and the Power to deliver from wrong mindsets and set them into the real identity and destiny He has for them.

This flag was designed as I was present to see my first grandchild's birth and saw the overwhelming love of the Father to his child through new eyes. I believe there is a special anointing on this flag to call the babes in Christ to a deeper intimate relationship with Father God and to call the absent fathers back to the children.

This flag was designed with Fathers Day sandwiched between design efforts. I believe this flag carries a special anointing to call the spiritual prodigals back to the Father. Malachi 4:6, " He shall turn the hearts of the father to the children and heart of the children to the fathers"

The design is of multi-colored hearts of all sizes to symbolize the variety and multiplicity of love coming from the Father to the child and from the child to the Father. All nations, all ethnics, all groups-- the door is open to everyone to come. The hearts are ever-expanding to portray a beating heart that accelerates as the Father hears His child call Him Daddy and the love grows as the child reciprocates and reflects the love of the Father.