---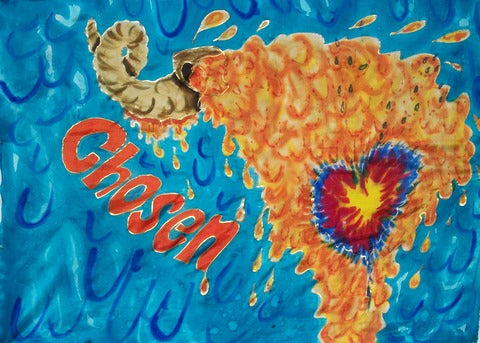 INTERPRETATION OF CHOSEN ANOINTING FLAG
This flag was birthed from a request of a worship warrior. As I prayed over her vision of pouring oil and the scriptures of 1 Sam 16. Vs 1, God commanded Samuel to FILL his horn with oil to anoint His chosen new king. Samuel goes at the Lords leading to Jesse's house and believes the best looking son must be Gods chosen. But God says He looks upon the heart of man-- this 'look' is for someone on fire and passionate for the Lord. And David, a worshipper is such a one. And Samuel anoints him, God's chosen, with and an abundance of oil that drips from his beard.
This flag is a visual of that act, as we, God's chosen, receive the anointing of Holy Spirit without measure.
IMAGERY:
The shofar horn is symbolic of Holy Spirit, as it is the horn used to call for a solemn assembly. The oil, is again symbolic of Holy Spirit who fills us with all wisdom. The anointing oil was symbolic of Gods chosen, was holy oil set aside for His priest and kings and for vessels set aside for His use. We, symbolized by the heart on fire, are His passionate ones. The heart is filled with blue fire, the hottest purest fire there is, and our hearts are melted by the anointing.
Blue is the color for Holy Spirits and the background is shades of blue with blowing turbulent winds-- tornadoes and hurricanes.
I believe this flag helps usher in passion for worship as the love and acceptance of the Lord is poured out on and through us