---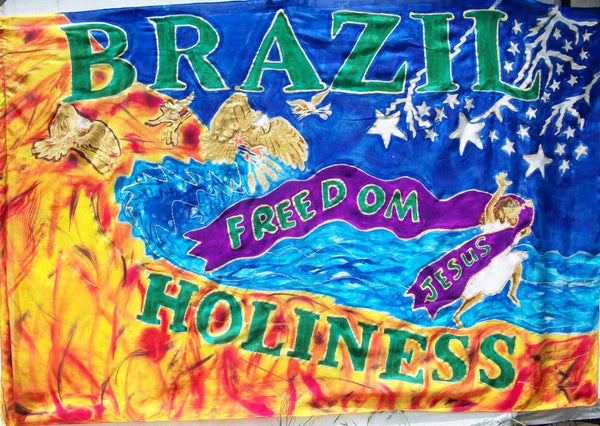 BRAZIL
Much of the imagery for this flag came from a prophetic Word through Stacy Campbell of Eyes and Wings Ministry. Other imagery came from the heartcry of intercessors and from the Spirit. Some symbols came from the National Flag to tie into the synergy of ages and call over this Nation.
Here is a paraphrase of the Stacy Campbell Word: " I see the generations behind us rising up, rising from trauma into victory and freedom. I see a wave of Holiness coming into Brazil and Righteousness into corrupt governmental structures. Prepare you the way of the Lord! Make straight the crooked places, make low the high places and raise up the low. I see Jesus dancing in His Glory because satan is falling like lightening and souls are being added to the Lambs book of Life as they are being set free. Catch the Fire! Change society and not be changed by it."
The imagery taken from this Word are the dancing Jesus with a banner of Freedom flowing from Him as He dances on a tidal wave of Glory Fire to purge out iniquity and usher in His presence. The wave morphs into blue into a river. Blue fire is the purest, hottest fire. And the river rushes in to cleanse and refresh.
The Green lettering is taken from the national flag which has a green background to represent the ruling houses of Brazil. There are 27 stars on the national flag for the 27 federated states. I put 5 [3] large shooting stars to represent satan falling from the government, Five stands for grace from bondage & liberty. Three stands for divine perfection/completion, resurrection power. In the purple background are the remaining 22[24] stars-- 24 also stands for perfection in government and purple represents royalty, priesthood.
There are 4 eagles flying in with the wave of Glory. Four represents ruling authority on earth, from the North, South, East & West. Eagles represent Freedom, War for Righteousness, Swift judgment & deliverance from trouble, Victory, Seer/Prophetic anointing, America.
The eagles are carrying wheat symbolic of the future generation, the spiritual harvest, souls to brought in, gospel seed.