---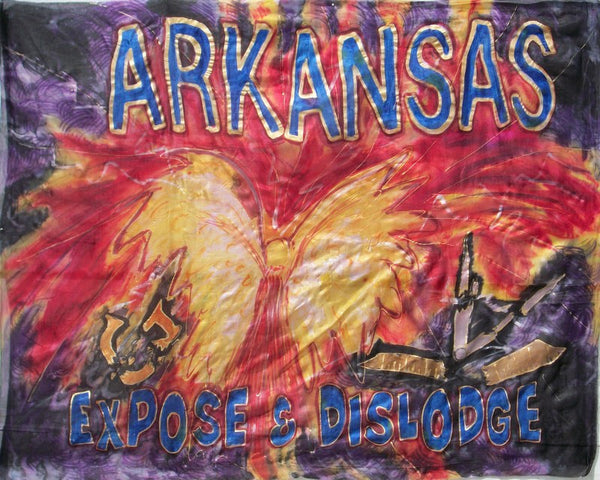 INTERPRETATION OF ARKANSAS PROPHETIC FLAG 

The Decrees & Visons: "EXPOSING AND DISLODGING THE SERPENT STATE"

Arkansas, you have been in captivity long enough! A new mantle is going to raise this state for leadership for the future that thinks the way I (God) think.

Arkansas is a state of refuge where God will re-infuse hope.

God is going to use Arkansas to expose and dislodge the serpent.

Dislodge speaks of the strong Masonic structure that is in this state. Exposure speaks to witchcraft being revealed.

Light, Revelation and the gift of discernment will be released.

Isaiah 35 is the redemptive scripture for this state

IMAGERY VISION ON FLAG:

Central image on the flag is of an Glory Angel warring with light to expose the works of darkness. Angels attend our worship which translates us into the Glory realm and the glory cloud expands out from it. The Glory of pure worship will reveal the hidden works of darkness. In the darkness are Masonic symbols that are revealed and broken though that revelation and "dislodged". This dislodgement will expand throughout the USA.



The vision for this flag was gleaned from excerpts from the book, "Releasing the Prophetic Destiny of a Nation" written by Dutch Sheets and Chuck Pierce. This book was written from the call of God on their lives in to go to each state in America to link with ministries in that state and decree the destiny of God for that place and stir up a prophetic army of intercessors for America.