---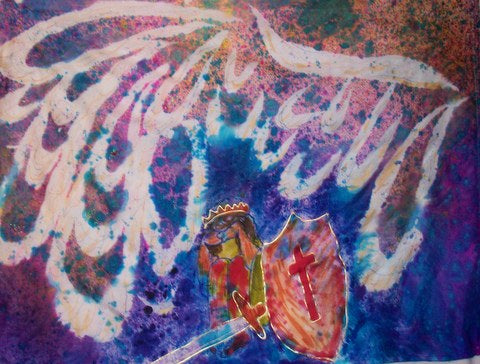 Interpretation Rise Again #1 Prophetic Worship Flag
Rise Again is actually two flags created as a set. They have a blending in the Spirit realm, yet each is also a stand alone flag.

Rise Again #1 is based off of Psalm 91:1  Pictured is a battle weary warrior who is resting in the Shadow of the Almighty's wings. Even in rest, the Shield of faith is standing and the Word covers the feet. The shadow is purple & blues-- purple for royalty and blue for Holy Spirit. Pink for Joy is hovering on the sidelines ready to rush in when the refreshing comes. Gold & yellow to symbolize the Glory anointing. 

Psa 91:1 He that dwelleth in the secret place of the most High shall abide under the shadow of the Almighty. Psa 91:2 I will say of the LORD, He is my refuge and my fortress: my God; in him will I trust. Psa 91:3 Surely he shall deliver thee from the snare of the fowler, and from the noisome pestilence. Psa 91:4 He shall cover thee with his feathers, and under his wings shalt thou trust: his truth shall be thy shield and buckler.

When ordered as a set, #1 is formatted to be waved from the left hand unless you inform me in the note when you order.