---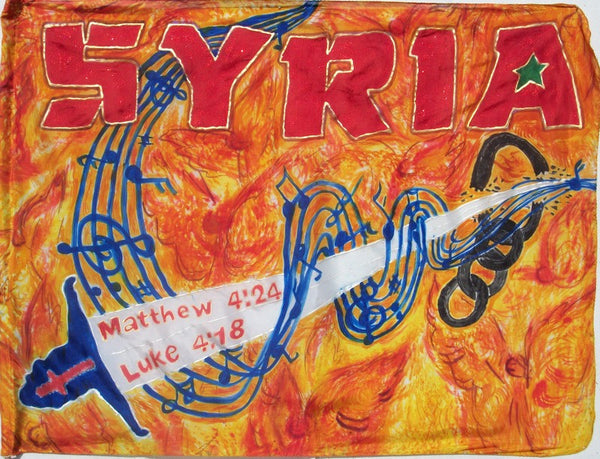 INTERPRETATION OF SYRIA PROPHETIC FLAG
Modern day Syria is known as a nation with much war in its midst. Their flag colors are known as "Pan-Arab" comprised of red, white & black with two green stars represent Syria and either Egypt or Iraq. The red represents Islam.
The Prophetic flag has one star in the A for Syria. The name of Syria is in red as a decree for this nation to be covered in salvation through the Blood of Jesus. The background of the flag is swirling glory fire representing the presence of God as new songs of worship are released into the atmosphere. Swirling down from heaven is a music staff-- the staff has Five lines and five is the number for grace. A "staff" in heritage is a symbol of power and authority. The staff and musical notes are in blue, a color representing Holy Spirit.
In the days when Jesus walked this earth, Syria was part of His region and with these scriptures upon the two edged sword we are declaring that His name shall be known in this country again! The sword of the Lord has Mathew 4:24 and Luke 4:18 written upon it.
Mat 4:24 And his fame went throughout all Syria: and they brought unto him all sick people that were taken with divers diseases and torments, and those which were possessed with devils, and those which were lunatick, and those that had the palsy; and he healed them
Luk 4:18 The Spirit of the Lord is upon me, because he hath anointed me to preach the gospel to the poor; he hath sent me to heal the brokenhearted, to preach deliverance to the captives, a nd recovering of sight to the blind, to set at liberty them that are bruised, To preach the acceptable year of the Lord.
And it is the combination of the Presence of God, New songs of Worship and the Word of the Lord that will break the strongholds of bondage in this land and bring revival, liberty and healing.