---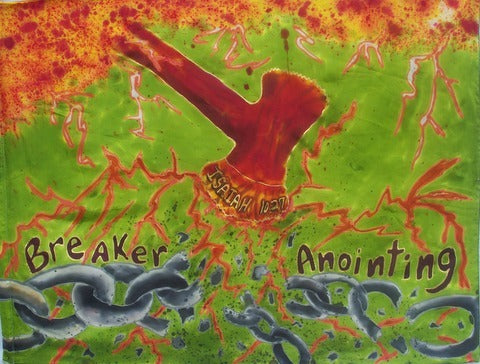 INTERPRETATION BREAKER ANOINTING PROPHETIC FLAG

The burden removing, yoke destroying power of God in our lives

Isa 10:27 And it shall come to pass in that day, that his burden shall be taken away from off thy shoulder, and his yoke from off thy neck, and the yoke shall be destroyed because of the anointing.
Isa 9:4 For thou hast broken the yoke of his burden, and the staff of his shoulder, the rod of his oppressor, as in the day of Midian.
Isa 61:1 The Spirit of the Lord GOD is upon me; because the LORD hath anointed me to preach good tidings unto the meek; he hath sent me to bind up the brokenhearted, to proclaim liberty to the captives, and the opening of the prison to them that are bound; Isa 61:2 To proclaim the acceptable year of the LORD, and the day of vengeance of our God; to comfort all that mourn; Isa 61:3 To appoint unto them that mourn in Zion, to give unto them beauty for ashes, the oil of joy for mourning, the garment of praise for the spirit of heaviness; that they might be called trees of righteousness, the planting of the LORD, that he might be glorified.
Isa 61:4 And they shall build the old wastes, they shall raise up the former desolations, and they shall repair the waste cities, the desolations of many generations.


Saw a mallet of justice descending from heaven and crushing chains , yokes, and smashing them to smithereens by the power of the anointing of God symbolized by golden fire glory with lightening bolts coming from heaven and from the mallet smash.
The Background is of light green. Green is the color for healing, renewal, refreshing, revival, wholeness, a new day bursting forth.